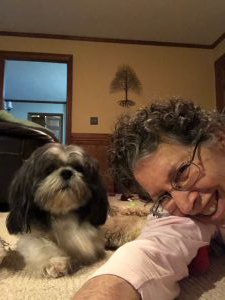 About June Crawford
Founder, Aiken Pet Sitters
June Crawford, the founder of Aiken Pet Sitters, is a pet professional with over 15 years of experience providing professional and high quality, reliable care to pets and the people who love them. She holds ongoing and currently updated Certified Professional Pet Sitter certification from Pet Sitters International and Pet First Aid & CPCR certification from Denise Fleck, Pet Safety Crusader of Sunny Dog Ink. In addition, June is a member of Pet Sitters International. She and her business are also bonded and insured.
June began a career in statistics and computer programming and computer systems analysis in 1982. In 2005, she founded Aiken Pet Sitters with the goal of providing compassionate, professional pet care services to clients in Aiken South Carolina. She is passionate about offering the very best care possible and she treats each pet as if they were a member of her own family.
When not caring for other people's pets, June spends time with her own pet family, including three yellow cats named Yellow, Sandman, and Amberjack, and one grey FIV+ cat named Connie, as well as her human family and friends. She also volunteers her time at the Humane Society of McCormick County, Friends of the Animal Shelter (FOTAS) and the Aiken County Animal Shelter, Aiken Estates Animal Rescue, and SGI Cat Allies in St. George Island FL, and enjoys hiking, swimming, camping, walking, and mother nature's bounties, and the challenges and rewards of cat TNR (Trap/Neuter-Spay/Return) .
Contact Us to set up a consultation visit with June Crawford at Aiken Pet Sitters.
In the Beginning
I have been taking care of my own and other people's pets since I was a little girl in Harrison Arkansas in the 50s. Fast forward to today, I am living my dream after starting a professional pet sitting service business in Aiken SC in 2005. I can honestly and lovingly say I LOVE my job and business!
Organizations We Support
Aiken Pet Sitters is proud to suport the following animal health and welfare organizations.
Aiken Estates Animal Rescue
Aiken Cat Alliance
Wayne Heath Animal Advocate
Why Choose Aiken Pet Sitters